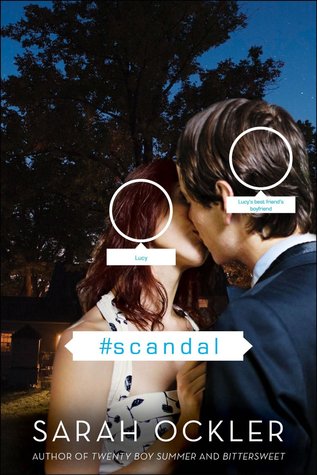 Lavender Oaks High is online, all the time.

At least the students are… and most of the staff, too.

It's a digital world, with Facebook ruling the technological roost – much like the majority of high school s in the Western world.

At Lavender Oaks, the hive mind is of social media is observed, catalogued and encouraged by Miss Demeanour, a mysterious figure always on the lookout for the next scandal.

Lucy Vaccaro follows Miss D. as avidly as the next person but when compromising photos of Lucy and her best friend's boyfriend appear online, she finds herself at the heart of her very own #Scandal.
Lucy, while hardly flawless, is quick to own her mistakes and over the course of the story comes a long way in terms of maturity, friendships and perception of others.

The relationships that she has with her friends and family (all of whom are exceptionally well-realised) are extremely believable as is her confusing romance with Cole, a suitably lovely if equally flawed character.

Her attitude towards her sister is particularly interesting in that it has been skewed by her sister's portrayal in the public eye which in turn has been influenced by her sister's very real yet magnified issues.

But then that is what Lucy's story is all about – perception and communication and the overload of both in the world of always accessible social media.
#Scandal is a bit of a rollercoaster ride.

It overflows with the kind of surrealist humour and youthful cynicism of Glee and Easy A and Ockler clearly has her finger on the pulse of new and less than new pop culture with references to Buffy, Veronica Mars, Twilight and The Hunger Games.

Miss Demeanour is a shameless homage to Gossip Girl herself.

It's all highly knowing, more than a little bit meta and extremely entertaining.

Yet Ockler, rather than merely providing readers with a bit of clever fluff (and there is nothing wrong with clever fluff) adds a murkier layer to what is ultimately a morality tale.
Cyberbullying is a pretty terrifying reality and #Scandal demonstrates how swiftly and effectively a reputation can be destroyed, while pointing out that school administrations and adults in general need to make themselves aware of exactly what is going on in a world where the millennial generation and beyond embrace new technology in the manner of fishes and water.

While highly entertaining, #Scandal is a tale of our times and I suspect we should all be taking notes.
The kids we meet at Lavender Oaks live lives that are utterly informed not only by social but also by traditional media. Facebook might be at the heart of Lucy's scandal, but it quickly becomes clear that the lens through which she and her friends view the world is one darkened by TV, tabloids, smart phones and Twitter.

They are both the watchers and the watched and they are hyper both of the power they hold as much as of the vulnerability engendered by the all-seeing eye of the modern world.

Ockler skilfully explores just how much can be lost through living life online rather than face to face – a lesson that Lucy learns in time but which will leave you wondering about the rest of us. Highly recommended.
This review was brought to you by Splendibird. #Scandal is available now. Thank you to the publisher, via Edelweiss, for providing us with a copy of this title to review.