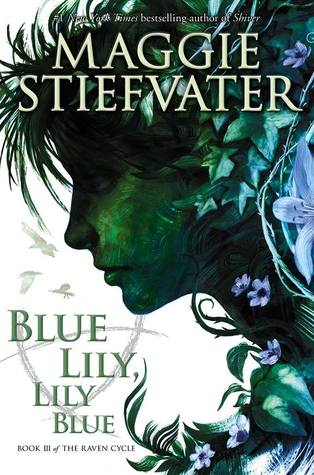 Blue Lily, Lily Blue
Maggie Stievfater
Scholastic 2014
Blue Lily, Lily Blue is the third book in Maggie Stiefvater's Raven Cycle. This review therefore may contain mild spoilers for the previous two books (reviews of which you can find here and here).
In the arena of 300 Fox Way, Monmouth Manufacturing, Aglionby and Henrietta the times, they are a'changing. Blue finds herself with not one but two lost parents, Adam navigates a new and overwhelming reality, Gansey frets, and Ronan dreams. Persephone guides, Calla watches, and Mr. Grey hears his life in lyrics from the stereo of a white Mitsubishi. Meanwhile, Colin Greenmantle chases both knowledge and revenge, an old Englishman appears with his ignominious dog and underground sleepers sleep, some to be woken and some never to wake.
While the first two books in Stiefvater's Raven Cycle have focussed primarily on one character (Blue in The Raven Boys and Ronan in The Dream Thieves), Blue Lily, Lily Blue is truly an ensemble affair. But, as with both previous books, the beating heart of the story is Richard Gansey III. Previously, Gansey has been both powerfully present and strangely intangible. Here he is vulnerable. From the very start of the story, Stiefvater takes Gansey and shows him as frightened and fragile. More than ever, she paints him as a character who walks daily a fine line between life and death. Not only is he vulnerable, he is worried. Worried about his friends, about his relationship with Blue and always, always about the quest that he fears may be ending – because what is Gansey without his search for Glendower? Gansey, always a fascinating character, has never been more compelling than he is with these fears and flaws to the fore.
His relationship with Blue is heart-rending to read for of course there can be no relationship. However, rather than focus on the fact that Blue can never kiss Gansey, Stiefvater chooses to focus on the delicate balance of the group as a whole and how the secret that Blue and Gansey hold might imbalance it. Very early on, Blue muses on the fascination the characters have for each other, the intense bond that she has forged with her Raven Boys and even as she knows it is perhaps unhealthy she can no more break it than she can stop breathing. Perhaps the most likely to upset the apple cart is Adam. A character intricately drawn he is, with Persephone's help, finding his way in a brave new world and, as he does so, slowly coming to terms with both his past and his present. In terms of character development, Adam has always been the most interesting character and this continues in Blue Lily, Lily Blue. He's a watcher, an observer of both himself and of the others and, in Blue Lily, Lily Blue he watches Ronan. Ronan still lives with his variety of secrets – they just aren't all as secret as he might think.
As well as the core group of characters, Stiefvater continues to excel in weaving extremely well written adults into her story. While the Raven Cycle is clearly aimed at Young Adults, Stiefvater doesn't pander to this age range when writing adults – instead she has created complex characters who exist in her story world not just as obligatory padding (as often seen in YA) but as an integral part of the plot. Standing out from the crowd are Persephone, eerie and ephemeral and Colin Greenmantle and his wife Piper, both splendidly and entirely sociopathic.
Blue Lily, Lily Blue takes the Raven Cycle to a far darker place than it has previously ventured and also one that is more frighteningly magical. The characters literally descend to the depths and impending peril lurks in every shadow. As with the previous books, Stiefvater uses words to pull readers expertly into a world that is familiar and unique, comforting and distressing. This is a story that feels ageless yet new – much like Gansey himself. It will leave readers both gasping for more (because damn you, Stiefvater, with your endings) and frightened to read on. Mainly, it will leave them with a literary photo reel running through their minds because this is a book filled with striking imagery: a dreamer in his lonely chair; a tragedy between two mirrors; a girl stepping into a dark lake; a shadow raging against the dying of his light; a herd of skeletal impossibilities, alive in an endless cavern and a boy, sitting in a dark kitchen, touching his face for fear that death might be crawling there. It's amazing, it's magical and it is by far some of the best writing I've ever come across. Highly, highly recommended.
This review was brought to you by Splendibird. Blue Lily, Lily Blue is available now. Thank you to lovely Melissa at The Book Nut for sending me her ARC so that I didn't have to wait. Because waiting was TOO MUCH.